Stevie Oakes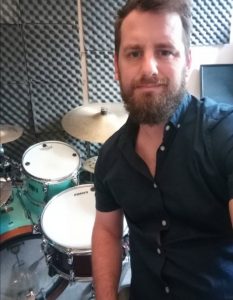 What do you teach?
Drum kit and percussion.
What's the best thing about your instrument/s?
The sound they make.
Tell us about an inspirational teacher you had when you were a child?
My brass band conductor at high school. He told me I should be open to all kinds of music. He was right.
What's your top practise tip?
Use a metronome and start slowly until it makes sense.
What's your top (musical or non-musical) well-being tip?
Plenty of fluids, exercise and sleep. Read a book, instead of a screen, in bed to help you sleep.
Know any good musician jokes?
How many bass players does it take to change a lightbulb?
None. The keyboard player can do it with his left hand.
Funniest musician moment?
Watching a singer I was drumming for showing off and falling off the stage.
Top five desert island discs/pieces/playlist?
Gregory Isaacs – greatest hits
Bjork – Hyperballad
Anything by BBKing
John Coltrane – Ballads
Paco de Lucia – Cositas Buenas
What music or musician websites or YouTubers do you recommend for our young people to look out for?
Vic Firth artist spotlight page on YouTube . Or look up any drum company's dedicated YouTube pages as there's always loads of great inspirational content for people wanting to learn and explore.
What do you do to relax?
Cycle, walk, eat, sleep, listen to music or watch stuff.
Quick-fire questions…
Coffee or tea?
Tea
Beethoven or Beyoncé?
Both
Last piece/song you downloaded or listened to?
John Schofield – Combo 66
Texting or talking?
Talking
Cats or dogs?
Dogs
Cake or cheese?
Cake
Favourite meal?
Everything
A musician/composer (dead or alive) you would love to meet?
Bob Marley, Frank Zappa or Vinnie Colaiuta
Another instrument I'd love to learn to play is…
Piano