Simon Fitton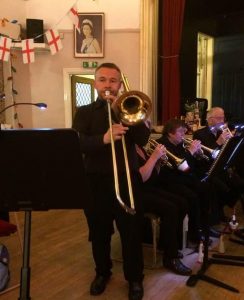 What do you teach?
Trombone is my main instrument but teach all brass. I also teach curriculum music.
What's the best thing about your instrument/s?
It's full of  character. It works well in all musical genres/styles and is very versatile. Every brass player makes their own unique sound for better or for worse. I love its individuality.
Tell us about an inspirational teacher you had when you were a child?
I have been very lucky to have some wonderful teachers but Ken Sanderson was inspiring. He played principle cornet with Besses of the Barn Band in the 1950's and was virtuosic and unique in every respect.
What's your top practise tip?
Practice things you find difficult or challenging. Be kind to yourself. Break difficult passages down. Slow the tempo. Take regular short breaks.
What's your top (musical or non-musical) well-being tip?
Be kind to yourself and others and enjoy music making!
Know any good musician jokes?
Why did the music teacher go up the ladder during music class? To reach the high notes!!!   What type  of music are balloons afraid of? Pop music!!
Funniest musician moment?
I once let go of my trombone slide in a big band concert and one of the dancers dancing in the tier below caught it!!
Top five desert island discs/pieces/playlist?
I love soul/disco/funk from the 60's and 70's. Earth Wind and Fire has got to be near the top.
What music or musician websites or YouTubers do you recommend for our young people to look out for?
Paul the Trombonist is amazing. He is inspiring, helpful.
What do you do to relax?
I love a great film. I love walking on the hills. I'm saving up for an electric bike after having a go on the neighbours!
Quick-fire questions…
Coffee or tea?
Coffee
Beethoven or Beyoncé?
Tricky one. Beethoven I think.
Last piece/song you downloaded or listened to?
Candi Statton – Young hearts
Texting or talking?
Talking
Cats or dogs?
Cats
Cake or cheese?
Cheese Grommit!
Favourite meal?
Anything with pie/curry.
A musician/composer (dead or alive) you would love to meet?
Glen Miller
Another instrument I'd love to learn to play is…
Classical guitar.