Neil McMinn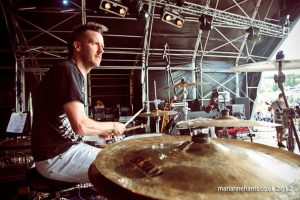 What do you teach?
Drums and percussion
What's the best thing about your instrument/s?
It can be very loud and very quiet!
Tell us about an inspirational teacher you had when you were a child?
Mr Shaw who taught me at Lostock High School. He used to asks how we were and took time to casually chat to us.
What's your top practice tip?
Practice on the days you eat!
What's your top (musical or non-musical) well-being tip?
Yoga Yoga Yoga!
Funniest musician moment?
I once found a Superman costume at a venue in the USA whilst I was on tour, so I put it on after the gig and ran around the car park outside carrying the singer like I had rescued her!
Top five desert island discs/pieces/playlist?
Anything by The Skints!
Anything by REM!
Anything by the B52s!
Miles Davis – Kind of Blue
Jaco Pastorius – Self titled solo album
What music or musician websites or YouTubers do you recommend for our young people to look out for?
Nandi Bushell!!!!
What do you do to relax?
Online chess, Netflix, reading fiction.
Quick-fire questions…
Coffee or tea?
Yes. 😉
Beethoven or Beyoncé?
Beyonce
Last piece/song you downloaded or listened to?
Gold Dust – Shy FX Re-Edit
Texting or talking?
Text
Cats or dogs?
Cats
Cake or cheese?
Cake
Favourite meal?
Curry!!!
A musician/composer (dead or alive) you would love to meet?
Bob Marley
Another instrument I'd love to learn to play is…
Bass guitar and Double Bass.