Mike Cavanagh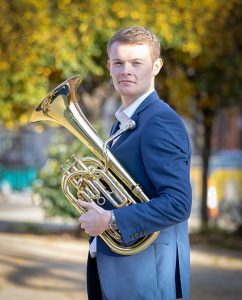 What do you teach?
All brass instruments: trumpet, baritone, cornet etc
What's the best thing about your instrument/s?
Probably its lyrical side – most people associate brass with loud playing but when in the right hands a baritone can really sing.
Tell us about an inspirational teacher you had when you were a child?
Katrina Marzella (my predecessor at Black Dyke Mills Brass Band) – her work promoting the baritone horn really inspired me when I was having lessons with her aged 16-18. This inspired me to take the instrument to new audiences and I have been able to do this with my quartet, A4 Brass Quartet. I have been the first baritone horn player to perform in Wigmore Hall, London. Katrina has also inspired me to get more pieces composed for the instrument which I hope to do over the coming years.
What's your top practise tip?
Little and often! We all lead busy lives so just try and do some focused 15-20 minutes practise each day, concentrating on the bars that you find tricky.
What's your top (musical or non-musical) well-being tip?
Exercise and listen to music!
What music or musician websites or YouTubers do you recommend for our young people to look out for?
I have a YouTube channel. I'd also strongly recommend listening to Peter Moore (trombone), David Childs (euphonium), Owen Farr (tenor Horn) & Sergei Nakariakov (trumpet), to name a few!
What do you do to relax?
I love football and exercise! So I regularly play for a local 11-a-side team and go running a lot. When I'm at home, either watching football, playing FIFA or sorting out my fantasy football team!
Quick-fire questions…
Coffee or tea?
Neither!
Beethoven or Beyoncé?
Beethoven
Last piece/song you downloaded or listened to?
Four Serious Songs (Brahms)
Texting or talking?
Talking
Cats or dogs?
Both!
Cake or cheese?
Cake
Favourite meal?
Roast beef dinner
A musician/composer (dead or alive) you would love to meet?
Mozart – and introduce him to the baritone horn so he composes lots of pieces for it!
Another instrument I'd love to learn to play is…
Piano