Mariel Vasilev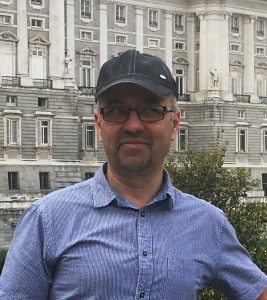 What do you teach?
Piano.
What's the best thing about your instrument/s? 
Easy to play, press a key and it makes the right sound.
Tell us about an inspirational teacher you had when you were a child? 
My first piano teacher (at the music school), she was always happy, even if I haven't practised.
What's your top practise tip? 
Have fun but combine it with hard work. This way you'll have more fun later when you become really good at your instrument.
What's your top (musical or non-musical) well-being tip? 
Practise a sport, it keeps you healthy and resilient and you also become competitive, which is good for a musician.
What do you do to relax? 
Running, listening to music.
Quick-fire questions…
Coffee or tea? 
Coffee, especially first thing in the morning.
Beethoven or Beyoncé? 
Beethoven
Last piece/song you downloaded or listened to? 
A few Heavy Metal bands.
Texting or talking? 
Either but in moderation.
Cats or dogs?
Cats, easier to look after.
Cake or cheese? 
Cheese first and then cake.
Favourite meal?
I love Italian and French food.
A musician/composer (dead or alive) you would love to meet? 
Beethoven, Mozart.
Another instrument I'd love to learn to play is…
Guitar.