Litsa Levendis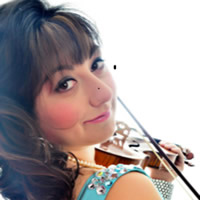 What do you teach?
I teach the violin mainly but also the piano, viola, ukulele and I train string orchestras in general including Trafford Youth Philharmonic Orchestra – which I love.
How long have you worked at Trafford Music Service?
Eleven years.
Do you just teach at The Claremont Centre?
I teach in schools and a lot at the Claremont. I find Trafford schools lovely to work for – it's a dream job.
What are you currently working on?
Currently I'm teaching a lot of individual and group lessons where I have such wonderful violin students. This summer I am entering lots of students for their ABRSM grade examinations. I absolutely love putting students in for exams, music festivals and competitions.
I also work alongside very talented staff at Trafford Youth Philharmonic Orchestra – they're all fabulous musicians and conductors. We also play a lot as a string quartet outside of our Trafford work.
Who was your most inspirational violin teacher?
I had many inspiring teachers s the RNCM. Steve Wilkie was my teacher at Junior RNCM for three years and then I went to the world famous Maciej Rakowsky: who you might know as he taught Nicola Benedetti
I'm even signed under a Russian record company, Quartz Records where our Pirandello piano trio CD is sold across America and Europe. You can find it on amazon, iTunes and Spotify. I also enjoy playing as a session musician including for famous people like Dragons Den stars, Paul Weller and I've even recorded with the wonderful band The Blossoms.
What are your top practice tips?
Make sure children practice daily for longer than half an hour. Just like sport, we need to train and exercise to achieve and enjoy success and music-making !! And send children to as many music ensembles as possible where they will have fun and socialise.
How do you relax?
I swim at the David Lloyd and jump up and down in muddy puddles with my son (lol!).
I also love to practice and perform in my own concerts – when I had more time I performed a lot around Europe, mainly Switzerland and London – but as I now have a one year old I hang out more at Wacky warehouses and the park.
I also love to play with Greek bands as I specialise in Greek violin playing. We perform at weddings and concerts around the North West. I also have a love for world music especially Arabic pop music.
Oh and I'm a shop-a-holic…. mainly at John Lewis!
Quick fire questions:
Tea or coffee? Tea
Beethoven or Beyonce? Beyonce
Cats or Dogs? Dogs
Favourite food? Spag Bol