Laura McPheely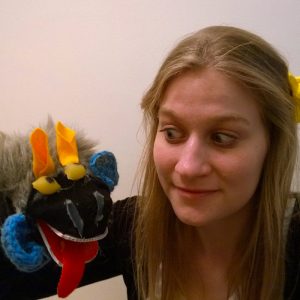 What do you teach?
Woodwind, Whole class Instrument Lessons, Curriculum and Ukulele
What's the best thing about your instrument/s?
They make lots of noise!
Tell us about an inspirational teacher you had when you were a child?
My drama teacher, Edith Husk, brought every lesson to life and made it magical.
What's your top practice tip?
Pick a small section of music and fit in a few minutes practise when the adverts come on. Like interval training!
What's your top (musical or non-musical) well-being tip?
Learning to play an instrument, and, if you are lucky enough to have pets, spending time with them. Mine like to 'help' me plan lessons!
Top five desert island discs/pieces/playlist?
I CAN'T get it down to five  but here goes…
Camille Saint-Saens – Symphony Number 5
Nigel Hess – Millenium Bridge from New London Pictures
These are both pieces I have happy memories of playing in Youth Ensembles
Aaron Copland – Appalachian Spring (Chamber version)
Copland is my favourite composer because he gives folk tunes the power of an orchestra. I discovered this version for thirteen instruments when I was studying music at University.
Fara – Speir thoo the wast wind
Skipinnish – The Island
I love contemporary folk music. These are three of many favourites that I play in my car driving to work.
What do you do to relax?
I usually spend time with my pride and joy: a collection of rabbits called Hiccup, Boo and Pipsqueak and I walk my dogs.
Quick-fire questions…
Coffee or tea?
Tea
Last piece/song you downloaded or listened to?
Tide Lines – The Young and the Restless
Cats or dogs?
Dogs
Cake or cheese?
Cake
Favourite meal?
Baked potato
A musician/composer (dead or alive) you would love to meet?
Edvard Grieg
Another instrument I'd love to learn to play is…
All of them!