Karen Swales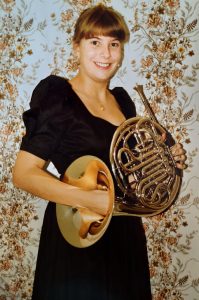 What do you teach?
French Horn, trumpet and I direct the Intermediate Wind Band.
What's the best thing about your instrument/s? 
There are so many different ensembles that the French horn can play from wind quintets, brass quintets to wind bands and orchestras.
Tell us about an inspirational teacher you had when you were a child?
My Grandad who achieved his LRAM diploma aged 11 and his FRCO aged 18 had the patience of a saint.  He taught me from the age of 6 – 16 before passing me on to another teacher and helped me to get to the RNCM to study music.
What's your top practise tip?
Little and often is better than a couple of longer sessions.
What's your top (musical or non-musical) well-being tip?
Laugh lots and be kind to people as they will return the favour when you need it.
Best musician moments?
Performing at Buckingham Palace for the Queen's birthday, playing at the London Proms with the BBC Philharmonic and a weekend trip to Kuwait to play for Royalty.
Funniest musician moment?
Laughing so much during a concert on stage that I could not play and tears were rolling down my face.
Top five desert island discs/pieces/playlist?
Anything from musicals, shows and film music.
What do you do to relax?
Spend time with the family, walking in the countryside and meals out.
Quick-fire questions…
Coffee or tea?
Coffee
Beethoven or Beyoncé? 
Beethoven
Last piece/song you downloaded or listened to?
Defying Gravity from Wicked
Texting or talking?
Talking
Cats or dogs?
Cats
Cake or cheese?
Both
Favourite meal?
Curry
A musician/composer (dead or alive) you would love to meet?
Mozart as he had a silly sense of humour and laughed a lot!
Another instrument I'd love to learn to play is…
Cello