Joe Wilson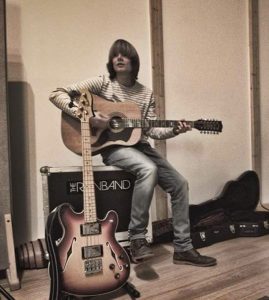 What do you teach?
Guitar, piano, bass, ukulele and secondary school curriculum.
What's the best thing about your instrument/s?
You can play lots of really well-known songs on them.
Tell us about an inspirational teacher you had when you were a child?
My own guitar teacher, he was a brilliant teacher and amazing guitarist.
What's your top practise tip?
Start off slow and practise difficult bits many times to get them right.
What's your top (musical or non-musical) well-being tip?
Remember to enjoy what you are doing.
Know any good musician jokes?
How do you make a bandstand? Take away their chairs!
Funniest musician moment?
Trying to throw my guitar up and then catch it on stage and dropping it instead.
Top five desert island discs/pieces/playlist?
A Day In The life – The Beatles
riday I'm In Love – The Cure
Substitute – The Who
Shine On You Crazy Diamond – Pink Floyd
Take Five – The Dave Brubeck Quartet
What music or musician websites or YouTubers do you recommend for our young people to look out for?
Songsterr is good for guitar music and Justinguitar has a lot of useful lessons and resources.
What do you do to relax?
Walk and cook.
Quick-fire questions…
Coffee or tea?
Coffee
Beethoven or Beyoncé?
Depends on my mood.
Last piece/song you downloaded or listened to?
Is It Real – Bombay Bicycle Club
Texting or talking?
Talking
Cats or dogs?
Both
Cake or cheese?
Cake
Favourite meal?
Curry
A musician/composer (dead or alive) you would love to meet?
John Lennon
Another instrument I'd love to learn to play is…
Cello