Jo Wade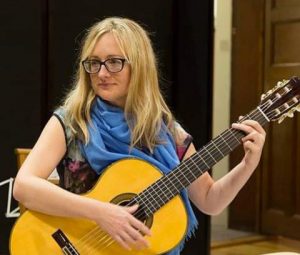 What do you teach?
Guitar
What's the best thing about your instrument/s?
It can play so many different styles, anything from Classical, jazz, rock. And its easy to carry and fit in the car.
Tell us about an inspirational teacher you had when you were a child?
I have several memorable teachers. They are the ones that had complete confidence in me.  That sort of belief is infectious.
What's your top practise tip?
Plan it, timetable it, do it.
What's your top (musical or non-musical) well-being tip?
Exercise.  Whatever I'm doing, I'm so much more productive after exercise.
Top five desert island discs/pieces/playlist?
Aerosmith – I don't want to miss a thing
Villa-Lobos – Prelude Number 3
Lauryn Hill – Doo Wop
Elbow – One day like this
Amy Winehouse – Any of her albums
What music or musician websites or YouTubers do you recommend for our young people to look out for?
Justin Sandercoe is a brilliant resource of songs, ideas and techniques.  Justin's videos are fluent and concise.
What do you do to relax?
Exercise and play my guitar.
Quick-fire questions…
Coffee or tea?
Coffee
Beethoven or Beyoncé?
Beyonce on a Friday, Beethoven on a Sunday
Last piece/song you downloaded or listened to?
The West Side Story soundtrack
Texting or talking?
Texting
Cats or dogs?
Dogs
Cake or cheese?
Cheese
Favourite meal?
Pizza with mushrooms and olives
A musician/composer (dead or alive) you would love to meet?
Antonio Vivaldi (1678-1741) Virtuoso violinist, composer and priest, massively influential, still widely performed.  Which present day musicians will we still be listening to in 300 Years? He must have done all this without electricity, an iPad, antibiotics, the internet…
Another instrument I'd love to learn to play is…
Something brass because I've never done any at all and I think trumpets are so cool.