Helena Summerfield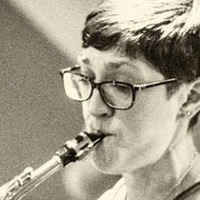 What do you teach?
I'm a woodwind specialist – Saxophone, Clarinet, Flute, Recorder and Fife. I also teach Curriculum music and Wider Opportunities.
How long have you worked at Trafford Music Service?
Five years, but have been teaching music for 20 years now.
Do you teach in schools as well as the Claremont Centre?
Yes, I teach in a mixture of high schools, primary schools and at the Claremont centre
Tell us about your current key projects with the service?
I direct the Jazz Collective and enjoy creating new opportunities to introduce children to jazz music, for example The Jazz Camp for Girls project that we are hosting at the Claremont Centre next week. New members are always welcome at the Jazz Collective, we rehearse on Tuesdays from 5.15-6.15pm.
Tell us about an inspirational teacher you had when you were a child?
My first saxophone teacher was a bit of a maverick and developed my love of jazz music. He told me a story about playing in a support band for the Rolling Stones before they became famous. He said to Charlie Watts "Why are you playing with these guys?" as they weren't playing jazz and Charlie Watts replied "I think they're on to something". They certainly were!
What's your top practise tip?
Little and often is the key when you first start. I would also encourage children to join an ensemble as soon as possible. Playing with other musicians is great fun and is what music making is all about. I still love performing in concerts after well over 30 years of doing so!
What are you looking forward to this school year?
I always love playing at the TMS ExTraffordganza event in the Summer term, it is definitely the highlight of my school year.
You're obviously incredibly busy… what do you do to relax?
Outside of teaching I enjoying making my own music and spending time with my family.
Quickfire questions…
Coffee or tea? Both, I'm a bit of a caffeine addict!
Beethoven or Beyoncé? Can I have Count Basie instead?
Cats or dogs? Dogs
Favourite meal? Pizza
A musician/composer (dead or alive) you would love to meet? Frank Sinatra
Love to have a go at Jazz – Helena would love to see new beginners – Join our Jazz Collective by registering via our website.