Helen Pillinger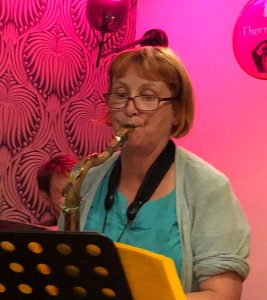 What do you teach?
Woodwind, specialising in the saxophone, flute and clarinet – sometimes the recorder.
What's the best thing about your instrument/s?
I love the sound of woodwind instruments.
Tell us about an inspirational teacher you had when you were a child?
My father, he was not my teacher, but a great singer and choirmaster, he inspired my love of music.
What's your top practice tip?
Warm up your instrument before you play with either a piece you already know or long notes.
What's your top (musical or non-musical) well-being tip?
Be kind and patient to yourself when you are learning something new.
Know any good (clean) musician jokes?
How do you fix a broken brass instrument ….with a tuba glue.
Funniest musician moment?
In a performance and suddenly realising my dress was inside out !!
Top five desert island discs/pieces/playlist?
Kind of Blue by Miles Davis
Cape town Revisited by Abdullah Ibrahim
Earth Wind and Fire
The Emotions
Stevie Wonder
Frank Sinatra
Bob Marley and the Wailers
What music or musician websites or YouTubers do you recommend for our young people to look out for?
Tiny desk concerts
What do you do to relax?
Walking my dog.
Quick-fire questions…
Coffee or tea?
Tea
Beethoven or Beyoncé?
Beethoven
Last piece/song you downloaded or listened to?
'Just a Vibration by Shiri ' a band of classical Indian music plus a brass band
Texting or talking?
Talking
Cats or dogs?
Dogs
Cake or cheese?
Cake
Favourite meal?
Halloumi and cauliflower curry
A musician/composer (dead or alive) you would love to meet?
Hank Mobley (tenor saxophonist)
Another instrument I'd love to learn to play is…
The Drums