Helen Peller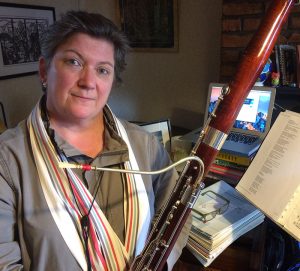 What instrument do you teach?
Bassoon
What's the best thing about your instrument?
Love the mellow deep sound it makes and the range of moods repertoire written for it can evoke.
Tell us about an inspirational teacher you had as a child?
I joined a primary school in Year 6 where there was a thriving music department (choir/recorder group) and my love of music and ability was ignited. The secondary school I moved to continued to support this and the dynamic head of music taught the bassoon.
Top practise tip?
Plan a structure for the whole weeks' worth of practice. What do I need to achieve? And then allocate small sections of this to each planned session culminating in a session that covers everything.
Top well-being tip?
Have a plan and build-in some flexibility.
Know a funny music joke?
What's the difference between a bull and an orchestra? A bull cannot be led by its horns!
Funniest musician moment?
The funniest moments usually involves the percussion section and gravity or sleep or a combination of them! As a member of the Halle Orchestra for 12 years there were several occasions where performances were livened up by examples of this.  Also, again in orchestral concert settings: instruments when they are to be played off-stage separate to the rest of the orchestra.  A video camera is used to view the conductor and it usually ends up being funny due to the sound delay.  Once the brass players were not playing in time, but of course, they blamed the distance and video camera.
Top five desert island pieces?
Mahler – Symphony No 2,
Richard Strauss – Alpine Symphony
Ravel – Mother Goose Suite, especially the final movement
Symphonies by Rachmaninov, Brahms and Bruckner
What do you do to relax?
A glass of something nice and chilled.
Quick Fire Questions:
Coffee or tea?
Coffee
Beethoven or Beyonce?
Beethoven
Last piece you downloaded or listened to?
Britten – A Ceremony of Carols
Text or talking?
Text
Cats or dogs?
Cats
Cake or cheese?
Cake
Favourite dish?
Sardine Nicoise in Cornwall – it's always a treat to have in a restaurant as the chef in my house doesn't like it.
A composer/musician (dead or alive) you would like to meet?
Poulenc. He sounds fun and wrote some great wind chamber music.
Instrument I'd love to learn to play…
The French horn – did my joke and repertoire choice give that away?