Graham Smith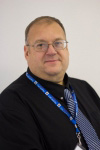 What do you teach?
Upper brass (mainly trumpet/cornet) and piano
What's the best thing about your instrument/s?
Brass – playing in a band/orchestra to make music with other people. Piano – for composing on.
Tell us about an inspirational teacher you had when you were a child?
I played in the local brass band from the age of 10 and the people in the band were my teachers until I got to university. Watching and listening to them all play twice a week inspired me.
What's your top practice tip?
Little and often! 5 or 10 mins every day is much better than an hour once a week.
What's your top (musical or non-musical) well-being tip?
Keep your instrument clean. Clean your mouthpiece weekly using a mouthpiece brush and the whole instrument internally at least 3 times a year.
Know any good musician jokes?
What do you get if you drop a piano down a mine-shaft? A FLAT MINOR.
Funniest musician moment?
It wasn't funny for me at the time but the rest of the brass section enjoyed this – I was playing " the trumpet shall sound" from The Messiah by Handel in a concert. Unfortunately one of my valves jammed and every time the tenor sang " and the trumpet shall sound" instead of the loud fanfare like phrase being heard there was total silence
Top five desert island discs/pieces/playlist?
Violin concerto by Beethoven
Macarthur Park played by Maynard Ferguson
Maria Maria by Carlos Santana
Born to run by Bruce Springsteen
John Nineteen Forty-One by Andrew Lloyd Weber
What music or musician websites or YouTubers do you recommend for our young people to look out for?
A young trumpeter called Louis Dowdeswell on YouTube.
What do you do to relax?
Cook or go to the cinema
Quick-fire questions…
Coffee or tea?
Coffee(black no sugar)
Beethoven or Beyoncé?
Beethoven although I prefer Bernstein or Britten
Last piece/song you downloaded or listened to?
Last download was Beethoven's 5th (live) with Simon Rattle conducting the L.S.O.
Texting or talking?
TALKING!!
Cats or dogs?
Dogs (as they are loyal unlike cats)
Cake or cheese?
Cake – top 3; fruit cake, coffee and walnut and lemon drizzle… but love New York style cheesecake.
Favourite meal?
Sunday lunch (roast beef, Yorkshire puddings, roast potatoes, cauliflower cheese, Brussel sprouts and carrots. Followed by sticky toffee pudding or something with a bit of a kick like Nasi Goreng (Indonesian fried rice).
A musician/composer (dead or alive) you would love to meet?
Mozart – I'd love to know if he was really like he is portrayed in the film Amadeus.
Another instrument I'd love to learn to play is…
I did play the bass  guitar briefly in a rock band whilst a teenager (with the long hair to match) and would love to learn how to play like Mark King form Level 42.