Clive Gandee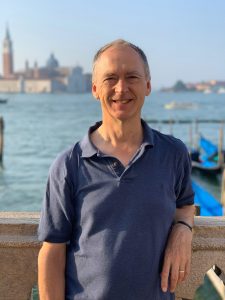 What do you teach?
All brass instruments but specialising in French Horn.
What's the best thing about your instrument/s?
It makes the most beautiful sound of all the instruments.
Tell us about an inspirational teacher you had when you were a child?
Masie Wiggins. She was my first teacher and although I moved onto Horn teachers she conducted Brass and Wind groups that I played in till I was 21.
It was only when I joined the Halle Orchestra in 1980 that I found out that she had been the principal trombone there (a living legend).
What's your top practice tip?
Listen to all musical advice even if it's contradictory, then form your own opinion.
What's your top (musical or non-musical) well-being tip?
Practice relaxing.
Any funny musical moments?
The off-stage bell in Symphonie Fantastique by Berlioz was swinging around so much it became impossible to play in time. Then it fell over.
Top five desert island discs/pieces/playlist?
Greatest hits of Abba, Queen, Louis Armstrong.   Any of Mahler's symphonies and Richard Strauss' Tone Poems.  Check out Richard Strauss' Also Sprach Zarathustra – everyone will instantly recognise the first few bars, but few know who composed it – it's scored for a gigantic orchestra + organ.
What music or musician websites or YouTubers do you recommend for our young people to look out for?
Spotify all my top five desert island pieces.
What do you do to relax?
Long distance walks in the holidays – Offa's Dyke Path (Wales), Coast to Coast. Grand Route 10 (Pyrenees) John Muir Trail (America).
Quick-fire questions…
Beethoven or Beyoncé?
Beethoven.
Last piece/song you downloaded or listened to?
Pirates of the Caribbean.
Texting or talking?
Talking.
Cats or dogs?
None.
Cake or cheese?
Cheese.
Favourite meal?
Lamb ragu.
A musician/composer (dead or alive) you would love to meet?
Joseph Leutgeb.
Another instrument I'd love to learn to play is…
Bassoon.