Alex Smith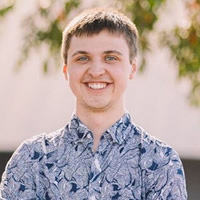 What do you teach?
I teach Orchestral Percussion and drum kit, as well as leading Trafford's new Steel pan and Samba band.
How long have you worked at Trafford Music Service?
I've been working at Trafford Music Service for just about a year, although it doesn't feel like that long! (Time flies when you're having fun!)
Do you teach in schools as well as the Claremont Centre?
Because all of the instruments I teach are pretty large and difficult to move, I normally teach at the Claremont Centre, where all of our percussion instruments live!
Tell us about your current key projects with the service?
My newly formed Steel pan & Samba band is getting off to a great start! This ensemble gives any child, regardless of their previous musical experience (complete beginners are welcome!) the opportunity to learn about world music, and learn to play a variety of percussion instruments in a fun, relaxed group setting.
Coming from an orchestral background myself, I really enjoy working with the percussion sections of Trafford's many orchestras. Trafford Philharmonic – the orchestra for our higher standard students – is particularly interesting to work with. The children tackle some incredibly difficult repertoire which, under the baton of Andy Levendis, always sounds very impressive come concert day!
It is a very large orchestra that makes an impressive sound, but we're always looking for more students to join us, especially those who play the French horn, bassoon etc
Tell us about an inspirational teacher you had when you were a child?
This is a hard one for me to answer! As a child I learnt the piano, various brass instruments, drum kit and percussion: which means that I've had a lot of music teachers over the years. The thing I find very interesting is that, to this day, I can see traces of each of my teachers in the way I play.
For example, I still approach phrasing and expression the way a brass teacher once explained to me, and I use coordination techniques taught by a drum kit teacher when I play the Marimba. I feel like the musician I am today has developed from a combination of ideas from the many teachers I've had throughout my life, as each one has inspired me in their own way!
What's your top practise tip?
As a percussion teacher, one of my main concerns is rhythm. Obviously percussion students need to learn how to read and play rhythms accurately, but this is also an incredibly important and often slightly overlooked skill for all instrumentalists.
My main advice for learning rhythm is to count! Out loud, if possible (sorry wind players…) but definitely in your head. This helps you to "internalise the pulse", which helps to maintain a steady pulse, play rhythms accurately, play in time with a conductor; basically all the most important skills for musicians to posses!
What are you looking forward to this school year?
I'm looking forward to the upcoming concerts at the Waterside in April. All the ensembles I'm working with are preparing very interesting music to a really high standard. Not to be missed!
You're obviously incredibly busy… what do you do to relax?
As I'm not a driver, I spend most of my free time on public transport. Every week I use my commutes to listen to new music; a composer, or genre of music that I'm not too familiar with, or perhaps folk music from another country, but really it could be anything I think may be interesting! Last week I was listening to solo piano pieces by Debussy, and this week it's 1960's French pop music! I don't always love all the music I hear, but the variety certainly keeps me entertained on my tram journeys!
Quickfire questions…
Coffee or tea? Coffee
Beethoven or Beyoncé? Either, depending on my mood…
Cats or dogs? Dogs
Favourite meal? Anything spicy!
A musician/composer (dead or alive) you would love to meet? Steve Reich
Interested in any of the lessons or ensembles that Alex Smith is involved in – email us at music.service@trafford.gov.uk or you can register directly at www.traffordmusicservice.co.uk/register/